Posted:
December 11th, 2009 |
Author:
Lori Paximadis
|
Filed under:
Best of 2009 Blog Challenge
,
house
|
Tags:
#best09
|
Comments Off

on Best of 2009: Place
Another entry in Gwen Bell's Best of 2009 Blog Challenge
Yeah, okay, best-laid plans and all that. I ended up with a much crazier week than anticipated, and only now am I starting to find room to breathe again. Maybe I'll catch up on those other posts. Maybe not. So, where were we? Oh yeah, the best of 2009 — best place.
This is another one I could answer in a number of ways. I found a couple little coffee shops and restaurants this year that I like to visit when I need a change of scenery from the home office, and I always do my best thinking when I'm walking on the beach, strolling the paths at the zoo, or wandering the galleries at the art museum. But this year, "place" is all about our house.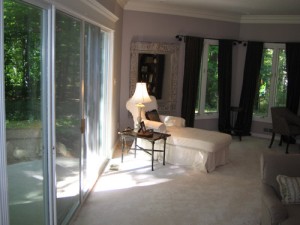 Last month we celebrated two years here, and as much as it is still very much a work in progress (and will likely remain so on into eternity), this house is finally starting to feel like ours. When we met, John and I each had our own house; after we were engaged, I moved into his place (it was bigger) and put mine up for sale. Soon after our wedding, we began looking for a new place. One whirlwind house hunt later, here we are.
We're in an inner-ring suburb, but our neighborhood is tucked up against the Metroparks and our lot is mostly woods, so it's a weird little pocket of nature in the middle of the 'burbs, complete with critters (raccoons, foxes, owls, groundhogs, deer, turkeys, etc.) and randomly falling trees. The house was built in 1967, and we are the third owners. It's a quirky and unusual place, bigger than we need, really, but suited to our personalities and lifestyle.
The house has very few right angles, so furniture placement can be a challenge. The rooms aren't really laid out in straight lines, either, so sometimes I still surprise myself with being able to see stuff that I don't think I should be able to see from a given point. It's a little Alice in Wonderland. But from every room there is a great view of the woods or the gardens, and there is room for me to have both an office and a studio.
When we got it, the colors were a little crazy (Pepto-Bismol pink, anyone?), but we've been slowly working our way around and neutralizing so that your gaze doesn't stop at the shocking walls but continues as it should to the lovely outdoors. We took all the heavy and dated downstairs window treatments down, which has helped a lot, too. The biggest thing we did this year was start to remove the white (yes, white — who does that?!?!) carpeting from the downstairs rooms. We're still undecided on what will replace it, but for now living with the cement is better than that grody carpet.
I spent a lot of time in the gardens this summer, improving the view from my office window, excavating some evil, invasive groundcover, and filling in a formerly swampy area with some dirt and a lot of deer-resistant perennials. The gardens are starting to make sense now.
While there's still a lot to do, the house now feels like home, a comfortable space where we can just hang out and be. And that's why it gets my vote for favorite place of 2009.
---