Posted:
November 5th, 2010 |
Author:
Lori Paximadis
|
Filed under:
art
,
holiday
,
jewelry
|
1 Comment »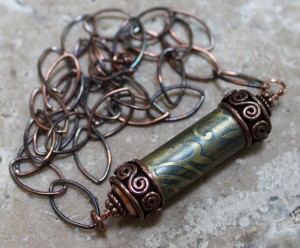 My denial of the change of season (snow last night!) hasn't prevented the days and weeks from continuing their march forward, and here it is, the start of show season.
I'm starting out tonight with a trunk show with several other artists (Brenda Traffis, Deb Perry, Linda Hahn, and Sandy Cseplo) at Bead Q in Chagrin Falls.
Sunday is the Beachwood Arts Council Holiday Craft Show, a new one for me.
Next Saturday is Basket of Treasures in Westlake. This is my second year for this show, and it's a huge one.
Friday after Thanksgiving is late night Big Box Detox at Blush Boutique on Coventry. I'll be there starting at 9 p.m. (yes, that late) with Kathy of Smashing and Chris of Copper Leaf Studios and a few others. We'll be there until midnight or so.
Early December has a couple of private events, then I wrap it all up with the mother of all shows, the Cleveland Handmade Last Minute Market on December 18, the Saturday before Christmas, at the Screw Factory in Lakewood. If you live in the Cleveland area, you don't want to miss this one. Last year we had a couple thousand people through the doors. It was busy all day, and it was a great atmosphere and a great time.
Hope to see you out at a show this season!
---