Posted:
September 28th, 2009 |
Author:
Lori Paximadis
|
Filed under:
art
,
nature
|
2 Comments »
[Hi! If you're here looking for the studio tour, head on over to my second October 2 post, or just click on the "virtuallori" banner above to be taken to the main page so you can see all the recent entries, including the tour. Many of the links in the tour list over at Cloth•Paper•Scissors Studios are pointing to the specific entries where people announced they'd be taking part, not the actual studio tours.]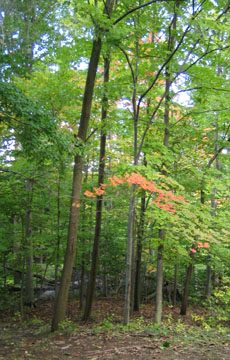 Fall is definitely here. Outside my office window, the trees are bending in the wind, and leaves litter the ground. A few of the trees have already turned — one especially beautiful red maple is in my line of sight if I lean over to the right — and the rest have that anticipatory look, you know, the one that says that by this time next week, or perhaps the week after, I'll be surrounded by the golden glow of the changed leaves.
Mom was going to join me again this morning to continue our assault on the evil, invasive chameleon plant that is creating such havoc on the slope next to the driveway, but it is just too wet out there to make any progress. I tried digging some on my own yesterday, but couldn't do much since the soil wouldn't crumble away, and we've had another inch or so of rain since then. It's going to be years before we're able to get rid of it all, but it's choking other stuff out and getting into the grass, so it's got to go.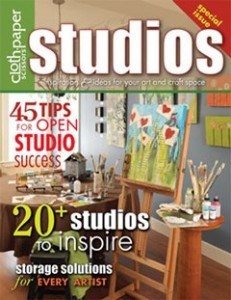 I'll be participating in the Cloth•Paper•Scissors Open Studio event on October 3; join me here for a little peek inside my studio.
---