Posted:
October 2nd, 2009 |
Author:
Lori Paximadis
|
Filed under:
art
,
jewelry
,
nature
|
36 Comments »
Welcome! The fine people over at Cloth•Paper•Scissors Studios magazine put out a call for studio tours, so here we are. I love browsing through all the studios in this magazine for storage and organization ideas, and just to see the artists' personalities shine through in their work spaces.
My space is not yet quite so evolved. We've been in this house for not quite two years now, and I still keep shuffling things around and experimenting with new arrangements.
(See a larger version of this photo with notes over at Flickr.)
My studio space is a "bonus room" in the middle of the rear of the second floor, nestled between the master bedroom on one side and another bedroom (which we use as an exercise room) on the other. There's a short hallway that leads to the main hallway, too. This is what you see when you first walk in from the master bedroom. My work table is the L-shaped office desk from our old condo. Eventually I will upgrade it, but for now it works. My everyday tools live within arm's reach, and I move things around as I need to to handle different projects. I have a worktable in the garage for doing messy things, like drilling metals.
The previous owners used this space as a kind of sitting room/office. I absolutely love the light in here, which comes from two skylights and two sliding doors that face west and overlook the woods that make up the back of our property.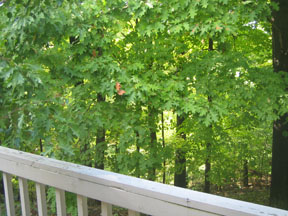 This is basically the view from my desk. In a week or two, most of those leaves will turn a brilliant golden yellow. We have several species of woodpeckers that frequent our woods, in addition to a ton of other birds and wildlife. In good weather, it's wonderful to work with the doors open and the breeze coming in and the sounds of wildlife (when I haven't opted to crank the stereo).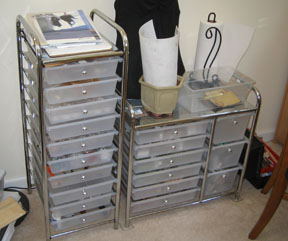 For now, in addition to the messy, messy shelves you see in the first picture (I didn't do any cleanup before I took these photos, so you're seeing the studio in its natural state), I'm using these shallow plastic drawers for storage of beads, wire, and a few tools I don't use all the time. Eventually the shelves and these drawer units will be replaced with wooden cabinets; it just hasn't been a high priority this year. Chris at Copper Leaf Studios and I got the same idea right about the same time that the shallow closet organizer drawers from Ikea would make great studio organizers, but she actually acted on the idea, whereas I'm still dreaming about it. (You can see her studio here. See how much nicer that looks than my piled-up shelf mess?) On top of the organizer, you can see the lower part of the mannequin I use for product shots for my Etsy shop.
I keep my bead drawers sorted by type, then by color. I use more Czech and other glass than any other kind of bead, so a number of drawers are dedicated just to them. This is my green drawer. I have a combination of plastic vials (from Fire Mountain Gems) and plastic jars (from a variety of places) in a few different sizes.
Lately I've started working more with gemstones and other natural materials. I like to buy this type of material in person so I can see exactly what I'm getting, so I go to a couple of gem shows every year and also shop my local bead stores. The Rings & Things Wholesale Bead Tour is one that I save up for, and they just came through here last week. This is a closeup of a corner of what I got there. I've been really busy since then and haven't had a chance to play with any of it yet, but hope to this weekend.
Here are a few pieces in progress. I do a bunch of etching all at once to create the background pieces. I don't usually do any sketches or plan out a piece much beforehand, but simply lay out an assortment of things on my work table and see what works well together until I come up with something like my Garnet Rain necklace, shown here. I've been really drawn to mother of pearl lately, so I'll end up using these buttons somehow in at least one of these pieces.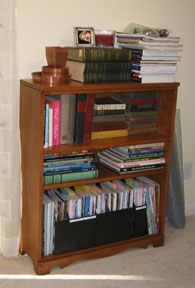 I work in publishing, and I have a great love of books, so I keep a stash of them and subscribe to a number of art magazines to consult for information and inspiration. This little bookcase shows about half of the selection. A larger bookcase is on my wishlist.
Earlier this week I started working through The Wish Kit from Inspired Home Office, which has been really helpful in guiding my thinking about how to reorganize and personalize my studio space, in addition to my office. (My office, where I do my computer work and my editorial work, is in a different room downstairs.) I'm looking forward to putting the things I'm figuring out into place over the next few months.
Thanks for stopping by! I hope you enjoyed this little peek into my creative world, and I hope you'll stop back again. If you have some time, check out some of the other studios on the tour. (Shannon Okey of Knitgrrl Studios is listed right above me in the list, and she's got a great space in an old warehouse here in Cleveland.)
---