Posted:
July 23rd, 2009 |
Author:
Lori Paximadis
|
Filed under:
jewelry
,
shows
,
tidbits
,
web
,
WordPress
|
Comments Off on tidbits: "now where did I put that?" edition
A quick roundup of random thoughts between tearing up the house to find where I left my brain…
A new giveaway is up on the Cleveland Handmade page, a very pretty fused glass necklace from glasfuzion. Entering is really simple, so go do it!
I did end up having to change my WordPress theme after all. I loved my time with Adam Freetly's widgetized version of DePo Clean, but it got really glitchy after my latest WordPress upgrade, and I never was able to figure out how to make the photos do what I wanted them to do, so it was time to move on. I present you with my own customized version of Clean Home by Bryan Helmig. Please let me know if you notice anything weird about the way it acts. Several users have posted on WordPress forums about problems with comments links, but I haven't come across any in my testing. I'm not thrilled about the text button used to submit comments, but that will have to wait for another day.
Our Cleveland Handmade appearance on Kickin' It with Kenny on Fox 8 has been confirmed for Friday, July 31, sometime around 7:20 a.m. Just waiting for a call back from the intern to figure out the exact details.
I'm glad to have the rain, but please make it stop before my show on Saturday.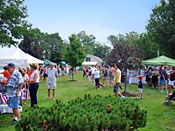 Speaking of the show, I was beyond thrilled to see a full-page ad for the Avon Lake Summer Market in the WestLife newspaper (and I'm assuming it ran in the Avon Lake Press, too), complete with all the participants' names and a brief description of what they have. This show just gets bigger and better every year.
And why is it that I always get new ideas for products and displays mere days before a major show, when there just isn't enough time to pursue them?
---