Lori & John's wedding
3 June 2007
Overcast turned to pouring rain on the drive to the Cleveland Botanical Garden, but we didn't let it affect the joy of the day. The CBG staff set Plan B into action and created a beautiful backdrop for us in the Grand Foyer while we got ready.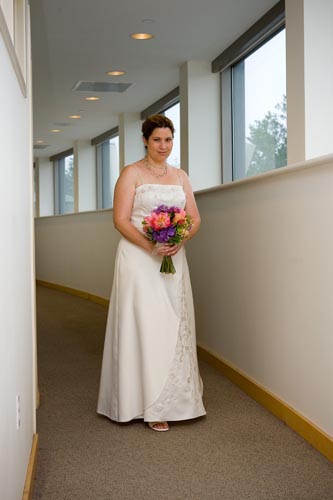 My niece, Lily, elected herself flowergirl and did a lovely job.
John was very handsome in his suit.
Our friend Mike officiated and received many compliments on his performance. We promised to listen to each other, which caused a bit of giggling from the guests.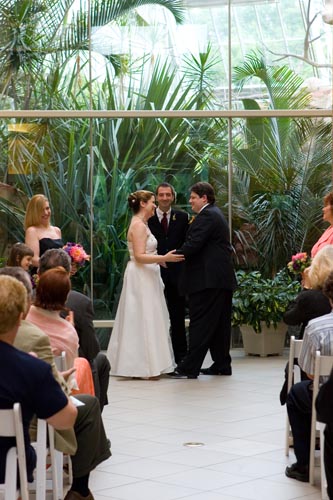 Here we are, newly married!
The rain led to a change of post-ceremony plans, and we did our receiving line with the butterflies in the glasshouse.
With Lori's mom & Jim:
With Lori's dad, Bill: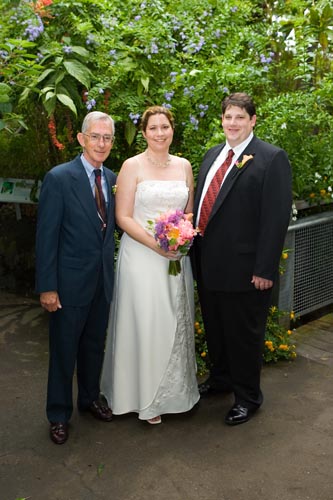 With John's mom, Mary, & Paul: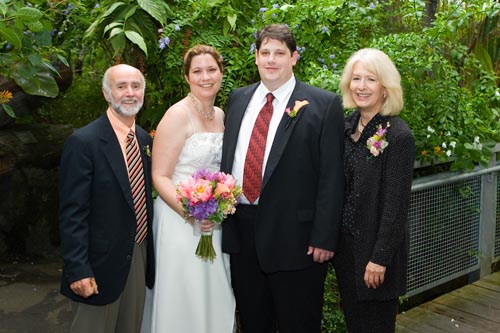 With John's dad, John, & Sharon: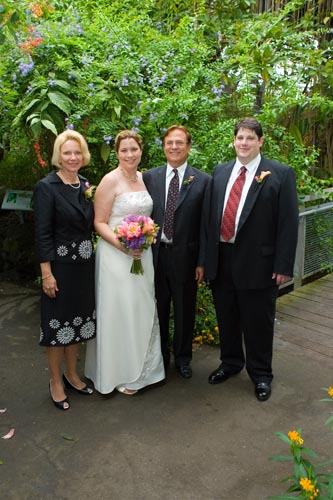 My best women were my sister Lisa, Cousin Kim, and my niece Lily: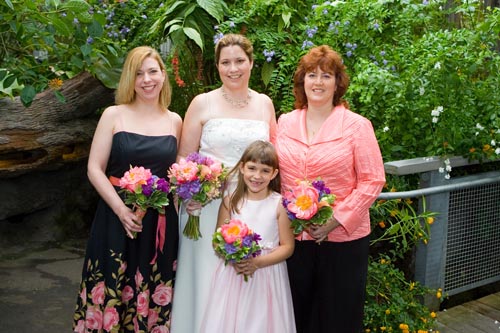 I cannot rave enough about the gorgeousness of my flowers. Tracy at Fresh Tendrils in Avon is a genius.
The CBG staff did an excellent job of pulling together the "cottage garden" theme (it appears that one must have a theme beyond "wedding"). I put together the centerpiece planters myself (Mom helped me pick out the flowers).
Equal in gorgeousness to the flowers were the cakes, and Sue and her staff at Wild Flour Bakery in Rocky River went so far above and beyond my expectactions that it was breathtaking. (Tracy did the flowers for the cake, too.)
We had omelet stations, salmon, ham, roasted vegetables, potato hash, assorted pastries, and minted fruit salad. This omelet chef kept the D'Vine crowd entertained.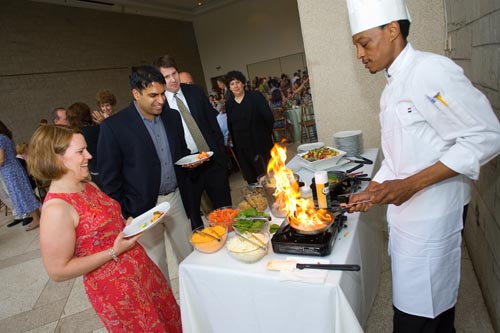 During brunch, it finally stopped raining. After we finished our meals, we snuck outside while others were still eating to take a few photos in the garden. I love this rose arch.
The pond is usually full of waterlillies and lotuses, but for some reason they weren't there yet. The compensation is this great photo with the reflection.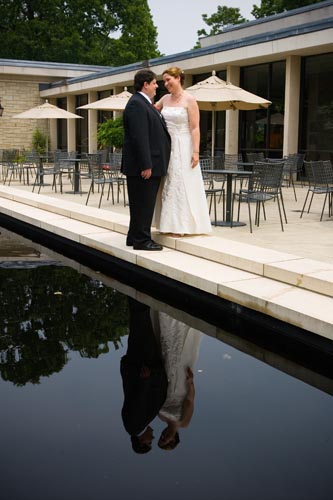 We cut the cake, but then totally forgot that we were supposed to feed it to each other.
We went home and enjoyed the peace & quiet and reflected on what a perfect day it had been.
---